Que 1st and 2nd with explanation.

1. A ray incident at point B at an angle of incidence enters into a glass sphere and is reflected and refracted at the farther surface of the sphere, as shown. The angle between the reflected and refracted rays at this surface is 90 . If refractive index of material of sphere is the value of is


2. Light in incident from glass to water . Find the range of deviation for which there are two angle of incidence.
Dear Student ,
2. Answer of the question 2 is given below .Kindly ask different question in different posts .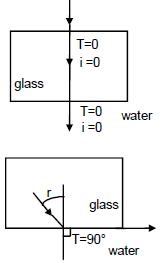 Here, if the angle of incidence is increased beyond critical angle, total internal reflection occurs and deviation decreases. So, the range of deviation is 0 to cos–1(8/9).
Regards