Solve this question (MORE THAN ONE OPTIONS ARE CORRECT) :
Dear Student
Image formed after refraction form lens.
for this virtual image, image formed by plane mirror will be at 45 cm on light of mirror this image will be real. And for this image thus is at distance 2f i.e. at 60 cm. Hence its real image again will be formed on 2f of lens in its left side.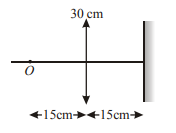 Hence, Final image is at 60 cm from lens towards left of it .
final image is real
So correct option is B and C
Regards