Pictographs
A Pictograph is a way of showing data using images.
Each image stands for a certain number of things.
Example: Apples Sold
Here is a pictograph of how many apples were sold at the local shop over 4 months: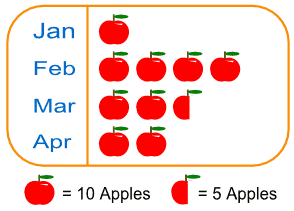 Note that each picture of an apple means 10 apples (and the half-apple picture means 5 apples).
So the pictograph is showing:
In January 10 apples were sold
In February 40 apples were sold
In March 25 apples were sold
In April 20 apples were sold
Pictograph is the way of expressing the data with the help of pictures. A key picture is used as unit which represents a number of concerned object. For example, the pictograph showing the numbers of cars sold by a company in different years is given below:
Here, the key is "1 image of car = 1000 cars".